We were recently on Mabul Island to celebrate the 18th anniversary of Sipadan-Mabul Resort on 17 December 2011. What a great week it was! 18 years ago, when Robert Lo, the owner of the resort, first started, it was a very small dive resort many have not heard of. Robert was very hands on and was involved in the design and construction of the resort from the beginning; and also the day to day operations of the resort after it was launched. Since then, he has expanded with another resort, the Mabul Water Bungalows, located next to Sipadan-Mabul Resort and has grown to what it is today.
Talking to Robert, you will quickly get a sense of his passion for the marine life and his drive to implement conservation projects so that our future generations will have the opportunity to share in the beauty of the seas as we have.
The celebration was held at Mabul Water Bungalows. All guests from both resorts were also invited. Staff from Kota Kinabalu head office were also there. It was a fun night with resort staff from various departments competing by performing song and dance for the audience. There were also lucky draws throughout the evening with gifts sponsored by various sponsors ranging from the very practical washing machine(!) and rice cooker to the more desirable electronic toys like smartphones and netbook.
Cindy and Niels Wedding Celebration
Also happening that week at Mabul Water Bungalows, Cindy and Niels were married by the beach on a nice sunny afternoon with their 55 friends and relatives from Netherlands, Germany, Australia and Malaysia witnessing the ceremony and joining in the celebration.
The Lana Lounge, where everyone adjourned to for the rest of the celebration, was beautifully decorated with white themed fresh flowers brought in from Semporna.
Congratulations Cindy and Niels!
Baby Green Turtles Starting a New Life
When we were there, we also witnessed the hatching and release of new baby Green Turtles into the sea as they start their life's journey and hopeful that some will reach adulthood.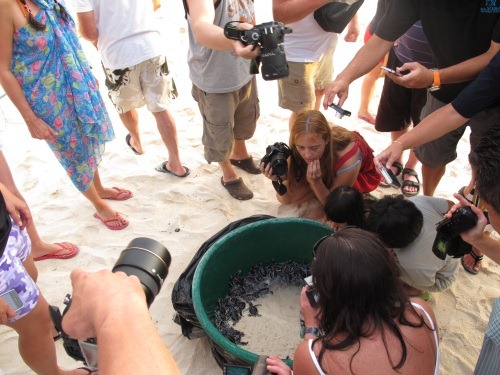 Merry Christmas and happy holidays everyone!