Rates
Tariff to Support Environmental Services in Raja Ampat All visitors to Raja Ampat must pay an annual marine park entrance fee. The fee is IDR 1,000,000 per person (IDR 500,000 for Indonesian nationals) and is valid for 12 months. Your resort will assist in collecting the fees from you and channel the funds to the relevant authority. The fee is not included in the package price.
Returning guests Returning guests will get 10% off for subsequent visits. Returning guests who brings along their friends will enjoy additional 5% off for both parties.
Single travellers Single supplement is compulsory for single travellers.
Children and infants Special rates apply for junior diver children sharing rooms with parents.
Children between 11 to 17 years of age will get 30% off diver rate.
Special rates apply for non-diving children sharing rooms with parents.
Infants up to 5 years of age will stay at no charge.
Children between 6 and 10 years of age will get 75% off non-diver rate.
Children between 11 and 17 years of age will get 60% off non-diver rate.
Dive Packages The dive package rates shown below is for unlimited diving packages; three guided boat dives daily plus a night dive and unlimited diving at the house reef. There are other dive package options available that is more leisurely.
Taxes Package prices are inclusive of service taxes.
What is Included
Accommodation.
Scheduled transfers between airport and harbour.
All food and hot beverages, soft drinks, but excluding alcoholic drinks.
Laundry.
WiFi Internet access, iPad and 27" iMac.
For diving package:

Unlimited jetty diving at the house reef and night dives from the jetty.
Air and Nitrox tanks; and weights.
Expert guides.
Not Included
Boat transfer costs between harbour and Raja4Divers. The cost is EUR 250 per person per return trip on scheduled departure dates.
Current Promotions
Ongoing promotion: check availability with us. We often run promotions for this resort.
Base currency for this resort: prices shown below in Indonesian Rupiah (IDR) are for reference only based on exchange rates in the last hour. The base currency for this resort is in Euro (EUR). All payments are charged in the resort base currency.
Dive package prices in Indonesian Rupiah (IDR) valid from Monday, January 1, 2018 to Tuesday, December 31, 2019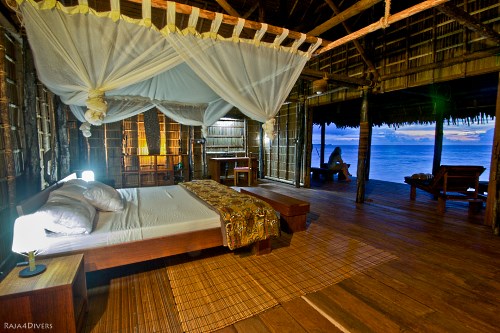 Bungalow
Twin Share Packages in Indonesian Rupiah
| Duration | Per Diver | Per Non Diver |
| --- | --- | --- |
| 6 nights at resort + 1 night in Sorong with breakfast | 42,650,566 | 31,167,721 |
| 13 nights at resort + 1 night in Sorong with breakfast | 78,739,507 | 57,414,224 |
| 20 nights at resort + 1 night in Sorong with breakfast | 111,547,634 | 81,200,116 |
| 27 nights at resort + 1 night in Sorong with breakfast | 141,074,949 | 102,525,399 |