About
This small, intimate resort focuses on conserving and enjoying the natural bounty of the Wildlife Heritage Zone. Don't expect five-star accommodations, but do expect comfort and impeccable cleanliness. The friendly staff are here to help you enjoy your stay and make sure that you have everything you need. You'll meet other guests and share stories of diving experiences, and suggestions for places to dive. The focus of the resort is definitely on making the most of the opportunity to enjoy the rare marine life and it attracts experienced divers from all over the world who are keen to see the abundant riches of this marvellous area.
You can choose between our comfortable chalets lining the shore, and our exotic water villas, standing on stilts in the water and offering spacious comfort and the tranquil sounds of the ocean to lull you to sleep.
Building materials like wood are hard to come by and most of the materials are imported from the nearest town at Tanjung Redeb in East Kalimatan, 110 km away. Despite that, the resort is a luxury by local standards and capitalizes on its beautiful, natural setting, and abundance of local seafood and fresh provisions.
Diving
The diving opportunities from Maratua are truly amazing! Within a short distance you can see some of the most abundant and rare marine life in the world. The corals and fish around the resort itself are varied, and there are several other spectacular dive locations around Maratua Island. Kakaban Island with its unique jellyfish lake, challenging cave dive, and great schools of barracuda, and Sangalaki Island, with its marvellous Manta rays, are just a short boat trip away.
Typically, the resort arranges two boat dives in the morning and one in the afternoon as well as an optional sunset dive and unlimited dives around the house reef. They have a strong team of Divemasters, some with over 10 years experience at nearby resorts. You can be certain that you will have every opportunity to enjoy the spectacular marine life, but there is no educational program.
Guests are advised to stay at least 6 nights, so that you can enjoy as much of the area as possible, including the magnificent Manta rays at Sangalaki Island.
The dive centre has a limited supply of rental gear, but you should plan on bringing all your own equipment if possible, or arrange rentals ahead of time. Nitrox is available to fill your tanks so that you can dive to your heart's content.
Conservation
The Divemasters at Maratua Paradise Resort are very aware of the delicate ecosystem and are dedicated to preserving it. The philosophy is always to appreciate and enjoy, and leave without causing damage.
The Resort itself is careful in its disposal of all garbage and makes every effort not to contribute to the degradation of the area. Several conservation groups operate in the Derawan Archipelago and as eco-tourism increases, local fisherman are seeing more and more reasons to avoid destructive practices such as dynamiting the reef or cyanide poisoning to attract fish.
Facilities
Restaurant - A simple restaurant on stilts over the water provides the perfect setting for you meals. You can linger at the table sharing stories with other divers, and enjoying the spectacular sunset and the sea breeze.
The food is wonderful! Freshly caught fish and shellfish play a large part in the menu, prepared in local asian style. No pork is served, and you should let them know in advance if you have any special dietary needs. Your package includes all your meals as well as coffee and tea.
Tuna Bar - The Tuna Bar is adjacent to the Restaurant and offers the same relaxed ambiance. It's a great place to relax after your dives and have a drink with friends while planning your activities for the following day.
Lounge - Sharing the same building as the Restaurant, Tuna Bar and Office, the lounge is a comfortable place to relax and read, or talk.
Internet & Phone - There is limited internet access via USB Broadband, but the service is intermittent. Phones are also available in the office, but telephone access is also sporadic. For this reason you should also keep some local money on hand to settle any incidental expenses in case the internet is not available when you leave.
Day Activities
Apart from diving, which is the focus at this Resort, there are also some amazing snorkelling opportunities around the house reefs and in the Jellyfish Lake at Kakaban Island, or at Sangalaki amongst the Manta rays.
Beyond the Resort, Maratua Island is home to 5 different villages, each of which is worth a visit. You can rent a motor scooter and local guide and see the whole island in about an hour, not including stops. This is a wonderful way to see some local culture and to get another view of island life. The road follows the beaches almost all the way around, and the views are superb.
There are also some interesting natural features like the Umbrella Stone, after which one of the villages is named, and an almost unknown lake which, like the lake on Kakaban, has the rare sting-less jellyfish.
Night Activities
In keeping with the friendly, dive-centre atmosphere of the resort, most evenings are spent at the bar talking with other visitors about the day's highlights and sharing photos and videos from the day's dives.
If there are enough guests who are eager to experience some local culture the Resort can arrange for a local dance troupe and orchestra to entertain the guests with their colourful, graceful performance, but there are no regular evening activities.
Rooms
The Maratua Paradise Resort has 18 tastefully appointed rooms with ocean views, catering for a maximum of 36 guests. 8 of these are beach chalets and 10 are water villas. All are spotlessly clean and comfortable.
All rooms have hot and cold running water, bathtub shower, fans and air conditioning as well as a mini fridge, hair dryer, and mosquito repellent.
Beach Chalet
8 beach chalets line the beach, each chalet is clean and comfortable, with good closet space, and a small desk and seating area. You can lounge on your bed, or on the balcony where you can enjoy an uninterrupted view of the ocean. You can also enjoy the beach from a small gazebo which is shared between two chalets.
Twin (4) or double (4) bed configuration
Air-conditioning and Fan
Generously sized private shower and bathtub with hot and cold water
Private balcony, with deck chairs
Coffee and tea making facilities
Mini refrigerator
Mosquito repellent
36 sq. m (about 387.5 sq. ft.)
From $920 per diver twin share for 6 days 5 nights.
From $460 per non-diver twin share for 6 days 5 nights.
See available rates and packages
Check Availability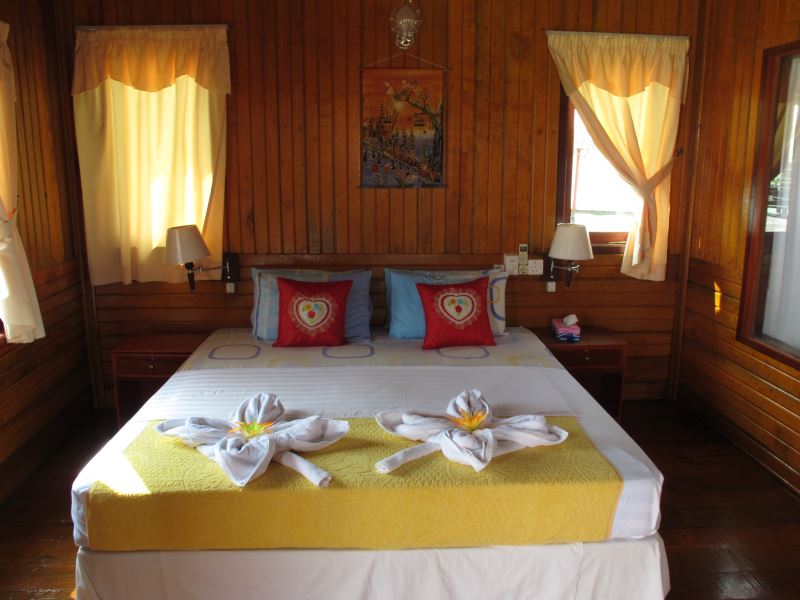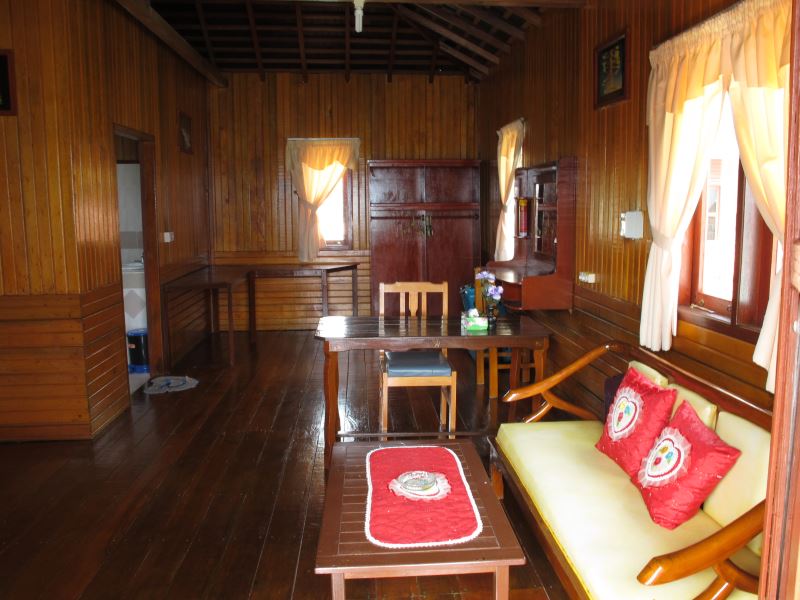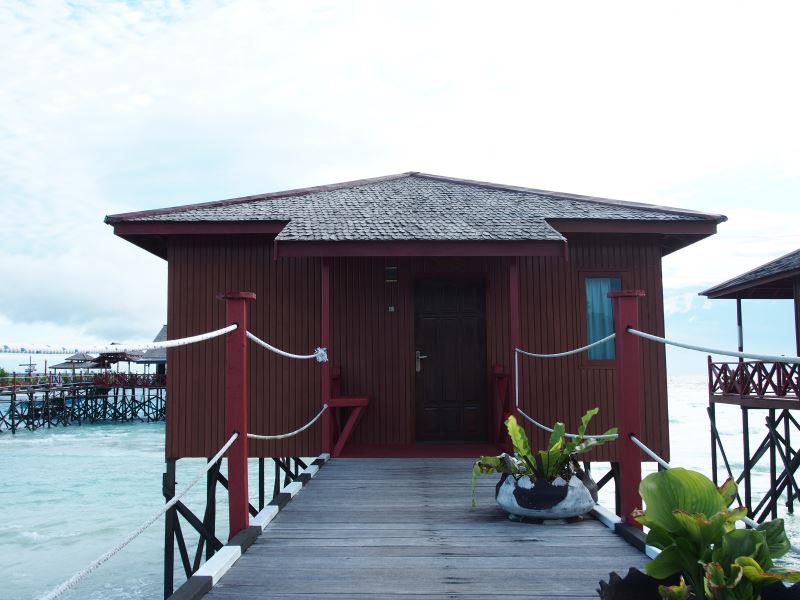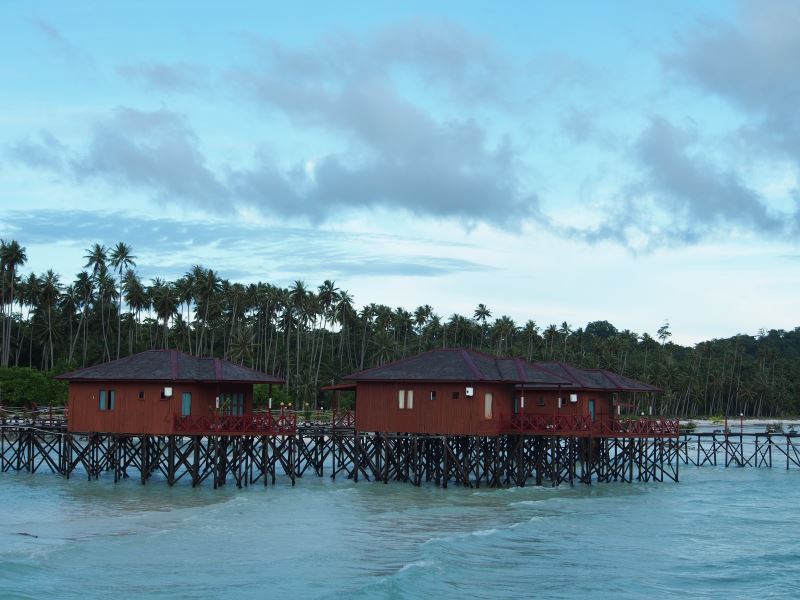 Water Villa
10 exotic water villas stand on stilts in the clear water, providing protection from mosquitoes and a cooling breeze. They are accessed by a wooden walkway, which connects them together, and also links them to the rest of the resort. Each contains a comfortable indoor sitting area, as well as the balcony and are spacious and eco-friendly. From the balcony you can enjoy the sea-breeze and spectacular ocean views, you can even see brightly coloured fish swimming beneath you.
Twin or king size double bed configuration
Remote controlled air-conditioning and ceiling fan
Generously sized private shower and bathtub with hot and cold water
Private sea view balcony with deck chairs
Coffee and tea making facilities
Mini bar
Satellite TV
In-room safe
Mosquito repellent
48 sq. m (about 516.7 sq. ft.)
From $1,095 per diver twin share for 6 days 5 nights.
From $635 per non-diver twin share for 6 days 5 nights.
See available rates and packages
Check Availability