Rates
Entry permits into Layang Layang Island: Entry permit from National Security Council is required for travellers entering Layang Layang Island. Approval may take up to 3 weeks, so we highly recommend booking this resort early. We will assist with the permit application.
Flights between Kota Kinabalu and Layang Layang Island: The flights between Kota Kinabalu and Layang Layang are chartered flights. The airline tickets are MYR 1,800 per person return including GST and airport tax. The airline tickets will be purchased together when you make your booking. It is not included in the package price below.
Single travellers: During the peak season, single supplement is compulsory. The single supplement is an additional 27.5% of the package price for divers and 44.3% of the package price for non-divers.
Peak season surcharge: There is a 10% peak season surcharge on package prices from 1st April to 7th May.
What is Included
2 boat dives on your day of arrival at Layang Layang Island led by at least one Divemaster.
3 boat dives daily around Layang Layang Island led by at least one Divemaster.
Unlimited jetty diving and night dives from the jetty.
Accommodation based on twin-sharing basis.
5 meals a day including light breakfast, main breakfast, lunch, tea break and dinner.
All food and hot beverages are provided, excluding alcoholic drinks, fruit juices and carbonated soft drinks.
Current Promotions
Ongoing promotion: check availability with us. We often run promotions for this resort.
Base currency for this resort: prices shown below in Indonesian Rupiah (IDR) are for reference only based on exchange rates in the last hour. The base currency for this resort is in Malaysian Ringgit (MYR). All payments are charged in the resort base currency.
Dive package prices in Indonesian Rupiah (IDR) valid from Friday, February 1, 2019 to Friday, July 26, 2019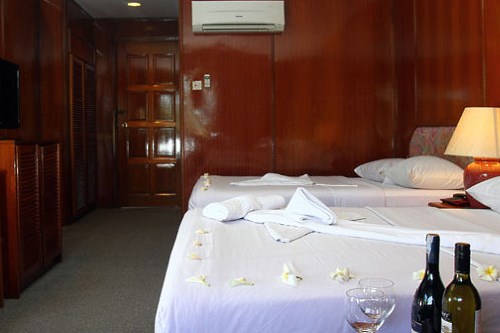 Standard
Twin Share Packages in Indonesian Rupiah
| Duration | Per Diver | Per Non Diver |
| --- | --- | --- |
| 5 Days 4 Nights | 17,551,241 | 12,094,190 |
| 6 Days 5 Nights | 21,487,139 | 14,665,825 |
| 7 Days 6 Nights | 25,423,037 | 17,237,461 |
| 8 Days 7 Nights | 29,358,936 | 19,809,096 |
| 9 Days 8 Nights | 33,294,834 | 22,380,731 |
| 10 Days 9 Nights | 37,230,732 | 24,952,367 |
| 11 Days 10 Nights | 41,166,630 | 27,524,002 |