Rates
SIMCA Conservation Fee: Lankayan Island Dive Resort collects a conservation fee of MYR25 per person per day. This fee goes towards funding the Sugud Islands Marine Conservation Area conservation efforts. The package prices does not include the conservation fee.
All the chalets at this resort is of the same type, however, some rooms are twin share and some are triple share. For triple share rooms, there is a 5% off the package price for all 3 divers. If one or more persons staying in the triple share is a child, then the 5% discount does not apply.
Single travellers: Single travellers must add single supplement, an additional 30% to the dive package.
Triple sharing option: 5% off package rate for 3 adults sharing a room.
Children and infants: There is a special rate for non-diving children sharing rooms with parents. The child should be from 2 to 11 years of age. The rate is 50% off the non-diver rate.
This resort will not accept infants 24 months old and below; expecting women; and elderly over the age of 80 due to health safety concerns.
Group Booking: Every tenth diver in your group will stay at no charge.
What is Included
Land and sea transfers between Sandakan (airport or your hotel) and Lankayan Island.
3 boat dives daily around Lankayan Island led by at least one Divemaster.
Unlimited jetty diving and night dives from the jetty.
Chalet accommodation is on twin-sharing or triple sharing basis.
All food and hot beverages are provided, excluding alcoholic drinks, fruit juices and carbonated soft drinks.
Current Promotions
Ongoing promotion: check availability with us. We often run promotions for this resort.
Base currency for this resort: prices shown below in Indonesian Rupiah (IDR) are for reference only based on exchange rates in the last hour. The base currency for this resort is in Malaysian Ringgit (MYR). All payments are charged in the resort base currency.
Dive package prices in Indonesian Rupiah (IDR) valid from Monday, April 1, 2019 to Tuesday, March 31, 2020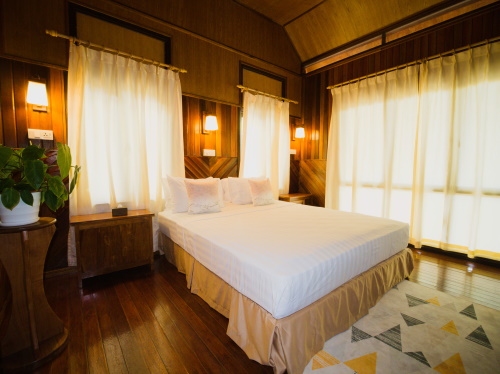 Beach Chalet
Twin Share Packages in Indonesian Rupiah
Duration
Per Diver
Per Non Diver
3 Days 2 Nights
9,208,774


8,509,589

7,401,126


6,841,778

4 Days 3 Nights
12,547,807


11,596,234

10,088,723


9,328,147

5 Days 4 Nights
15,886,840


14,682,878

12,776,321


11,814,516

6 Days 5 Nights
19,225,874


17,772,934

15,467,330


14,300,885

7 Days 6 Nights
22,564,907


20,859,578

18,154,927


16,790,665

8 Days 7 Nights
25,903,940


23,946,223

20,842,525


19,277,033

9 Days 8 Nights
29,242,973


27,032,868

23,530,123


21,763,402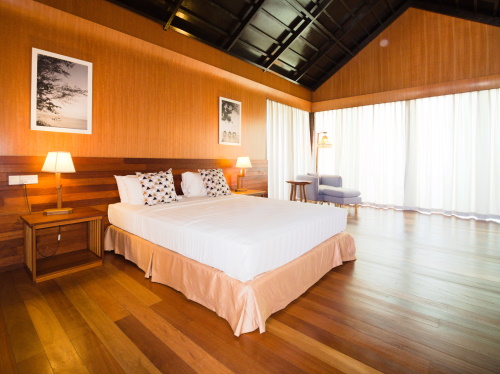 Water Chalet
Twin Share Packages in Indonesian Rupiah
Duration
Per Diver
Per Non Diver
3 Days 2 Nights
11,016,422


10,177,401

8,847,244


8,175,345

4 Days 3 Nights
15,003,480


13,864,321

12,056,673


11,142,616

5 Days 4 Nights
18,997,360


17,551,241

15,266,101


14,109,888

6 Days 5 Nights
22,984,418


21,241,572

18,475,529


17,077,160

7 Days 6 Nights
26,974,886


24,928,492

21,681,547


20,044,431

8 Days 7 Nights
30,965,355


28,615,412

24,890,975


23,011,703

9 Days 8 Nights
34,955,824


32,302,333

28,100,403


25,978,975