Diving
Sipadan Island, a marine paradise, is renowned among divers for its rich underwater biodiversity, pristine reefs, and sudden drop-offs into the deep blue. Regularly ranked as one of the top ten diving destinations in the world, this island can be found in the Celebes Sea just off of Borneo Malaysia. The wonders here are easily accessed from the town Semporna, which is only 35 kilometers north of the island or about an hour's boat ride away.
There are few places on Earth where a diver can see schools of whirling barracuda, a dozen sea turtles of varying species, a handful of sharks, and a teeming reef of angelfish, triggerfish, morays, and gobies all on one dive. At Sipadan, such sights are common, with lucky divers bringing home stories of whale sharks, manta rays, and schools of hammerheads. It is well known as a hotspot for biodiversity with over 3,000 species of fish and hundreds of coral species calling the waters off this island home.
The island's unique geography makes it home to many excellent dive sites. It is Malaysia's only oceanic island, meaning it rises straight from the seabed rather than the continental shelf. Its lush forests and white sand beaches rest on top of a prehistoric volcano rising 600 meters from the seafloor and the pristine waters surrounding the island allow for visibility of at least 20 meters year round. However, visibility can reach up to 50 meters during the dry season.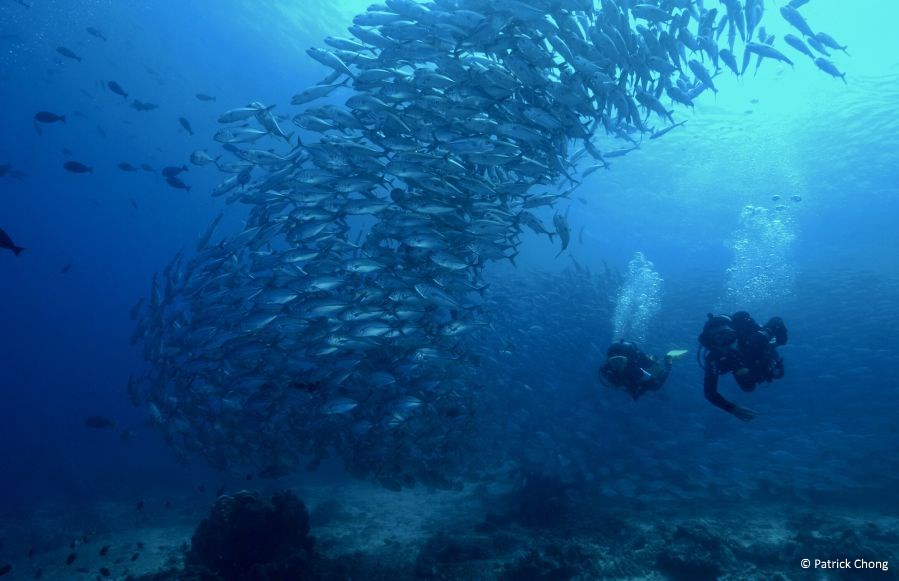 Entry Permit Requirement
Visiting Sipadan Island requires a permit issued by Sabah Parks, a Sabah Government agency. There are a limited number of 120 permits available each day. This is a good move by the Malaysian Government to minimize the stress on the reefs and marine life around the island.
The permit application will be made on your behalf by the resort you choose to stay at.
If a resort as unallocated permits for a given day, it will be returned to Sabah Parks so that it can be redistributed to other resorts that require additional permits. So, if the resort you are staying at has run out of permit allocation for the day, but another resort has available permits, you may be able to obtain these permits. Additional costs may apply.
Most resorts use the round-robin allocation method to maximize the chances of everyone visiting Sipadan Island. However, a number of these resorts will also give preferences to visitors with a longer duration of stay. Please check out the resorts below for more information on turn-around times and the recommended length of stay for diving at Sipadan Island.
You don't need a permit to visit the other islands in the area.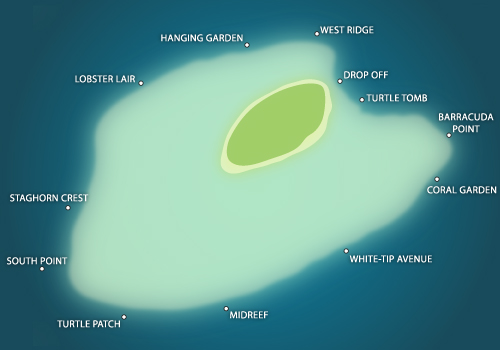 Notable Dive Sites
Sipadan has twelve dive sites in all, each with its distinctive features. Locations include the Coral Gardens, White-Tip Avenue, Turtle Patch, Staghorn Crest, Lobster Lair, Hanging Gardens, West Ridge and North Point. Despite the many reef sharks to be found at White-Tip Avenue and the abundance of soft corals at the Hanging Gardens, most notable sites are the Sipadan Jetty, Turtle Cavern, Barracuda Point, South Point, and Mid-Reef.
Sipadan Jetty/Drop-Off: Your dive can start as soon as your boat docks at the Sipadan Jetty. Located on the northern point of the island, the beach at the jetty suddenly drops straight down to the sea floor 600 meters below, making for a spectacular wall dive. As you swim along you can appreciate the hard and soft corals on one side as schools of barracuda, mackerel, and batfish swim by on the other. Enjoy the wall's overhangs but also keep an eye open for white tip reef sharks and the occasional leopard shark!
Turtle Cavern: Perhaps the most talked about and most eerie of the dive sites here is the Turtle Cavern – also known as the Turtle Tomb. About 20 meters down and just a short swim to the right of the Jetty is an extensive cave system. Locals say this is where turtles come to die, and indeed turtle skeletons can be found within. Fortunately, though, there are plenty of live turtles still swimming about outside of the caves. Many divers lose count of the number of green turtles they see between the Jetty Drop-Off and the Turtle Cavern.
Exploring the cavern There are only three resorts with full-time technical divers on staff available to bring divers into the Turtle Cavern. They are Mabul Water Bungalows, Seaventures Dive Rig and Sipadan-Mabul Resort.
Barracuda Point: As the name suggests, this dive site is known for its large schools of barracuda. Hundreds of barracuda congregate here, and if you are lucky, you may see the barracuda tornado as the schools swim in a rapid spiral forming a spinning wall of fish. Hard and soft corals along with black tip reef sharks, bump-head parrotfish, eagle rays, and triggerfish can all also be seen at this site. Barracuda Point is about a 3-minute boat ride to the right of the Jetty, and the site extends about 20 meters down. Be sure to watch out for currents here, which can occasionally get strong.
South Point: About a 15-minute boat ride from the Jetty can be found the South Point site, which is slightly southeast of the island. The site consists of a wall, a ledge at about 20 meters under, and then a sudden drop down. Be sure to look over the drop for rare sharks such as hammerheads and the thresher shark, which are usually only seen around 40 meters in depth. White-tip reef sharks can be found in shallower waters along with bannerfish, moray eels, and a variety of hard corals. Strong currents can also be found at this site, so divers beware!
Mid-Reef: One of the most colorful of the dive sites here, the emphasis here is on corals rather than pelagic creatures. East of the island, the site is about 10 minutes from the jetty by boat, with dive depths of 15-20 meters. Colorful sea fans, Moorish idols, and anemonefish dominate the scene. Be sure to keep your eye out for green turtles as well.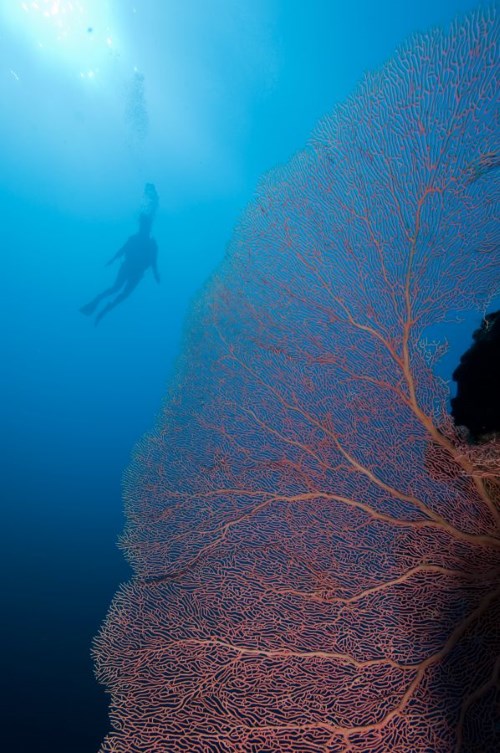 For divers who tire of seeing big turtles and bigger sharks all day, nearby Mabul Island and Kapalai Island are just a 20-minute speedboat ride away offering hidden treasures such as small nudibranchs and pipefish.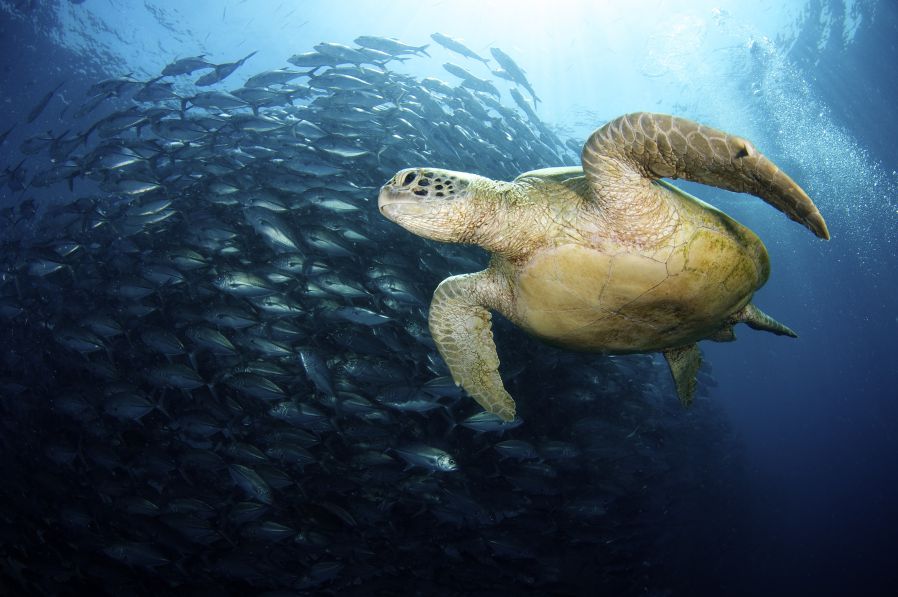 We've put together an infographic to help you determine which resort is right for you.
Best Times to Dive
| | |
| --- | --- |
| | March to October |
| | 26° - 29°C (78° - 84°F) |
Scuba diving occurs all year round at Sipadan Island with decent visibility to be had throughout the year. However, for the most breathtaking experiences, with dive visibility reaching up to 50 meters, you will have to visit during the dry season which occurs between March and October. Divers are sure to enjoy their surface intervals as temperatures throughout the year range between 26°C to 34°C (78°F to 93°F).
How to Get Here
The nearest town to Sipadan is Semporna town, East Coast of Sabah, Malaysian Borneo and the nearest airport is the Tawau Airport (IATA: TWU), Tawau. There are direct flights into Tawau Airport from Kota Kinabalu via Kota Kinabalu International Airport (IATA: BKI), Kuala Lumpur via Kuala Lumpur International Airport (IATA: KUL) and Johor Bahru via Senai International Airport (IATA: JHB).
We will arrange your pick up from Tawau Airport and transfer you to your resort. Check on the resorts below for transfer schedules and journey times.
History
Known initially as Siparan, this island was named after a local group of the same name. The Siparan people would often come to the island to collect turtle eggs and named the island after themselves. Over time the name became Sipadan; however, the local Bajau ethnic group continues to call the island by its original name.
Although Pulau Sipadan (Sipadan Island) is known for its diving, the island itself is well worth exploring. A lighthouse was built by the Malaysian government in 1962 and is still standing today. The lighthouse helped Malaysia gain sovereignty over Sipadan in a dispute with Indonesia that was finally settled by the International Court of Justice in 2004. Today its terrestrial and marine ecosystems are appreciated throughout the world, and the island could soon be considered a UNESCO World Heritage Site.
This island's history has been marked by a constant struggle between environmental conservation, tourism, and economic gain. For decades people came from around the world to see its pristine beauty, yet reckless tourism often threatened the very marine life people came to see. Fortunately, in the past few years the Malaysian government has taken great strides to protect its delicate ecosystems – but getting to this point was not easy.
Little is known of the history before the twentieth century. The first mention of the island in Western documents occurs in Dutch government papers from 1878. However, it was the Sultanate of Sulu, a Muslim State that ruled over many islands south of the Philippines, which had control over this island at this time. In the 1800s the Sulu Sultan granted tribal leaders on Dinawan Island the exclusive right to collect and trade turtle eggs from Sipadan Island. Conservation was not at the forefront of people's minds at this time.
The first step towards conserving this island's wildlife occurred in 1933 when British colonists declared the island a bird sanctuary. This island was an important stopover for migratory birds such as the greater sand plover, wood sandpiper, and common sandpiper. Bird watching continues to be enjoyed by visitors today thanks to this vital conservation step.
In 1964, the Sabah State Government took further steps to protect the wildlife on this island by including it in a conservation plan to preserve its turtle eggs. However, this plan was ill prepared for the full force of the tourism boom. Although Borneo Divers began dive trips to Sipadan in 1983, the tourism industry truly exploded once Jacques Cousteau released his movie "Borneo: Ghost of the Sea Turtle." The film documented its beauty and lush marine life, bringing the island international fame. Jacques Cousteau famously said of Sipadan "Now we have found an untouched piece of art".
Once the word was out, it did not remain untouched for long. By 1990 five resorts stood upon a narrow stretch of beach and conservationists began to notice tourism's effects on the surrounding ecosystems. In 1992, coral reef conservationist, Dr. Elizabeth Wood of Britain's Marine Conservation Society, began to monitor the deterioration of the coral reefs surrounding the island. No longer pristine, the coral had been damaged by careless divers and snorkellers, while boats stirred up silt that choked the delicate coral polyps.
In 1996 Tropical Storm Greg hit Sipadan Island destroying shallower parts of the reef. The corals couldn't recover from the storm as unfiltered waste from the island's resorts seeped into the sea, choking coral polyps and allowing algae to take over. In 1997 the Malaysian government made a half-hearted effort to protect its reefs by announcing restrictions on the number of tourists allowed to visit the island. However, these restrictions were not enforced, and few dive operators took notice.
For a long time, there has been a point of political contention – for decades Indonesia and Malaysia argued over who had sovereignty over the island. In 2002 the International Court of Justice declared Sipadan part of Malaysia, which allowed Malaysia to firm up its conservation efforts in the following years.
The year 2004 was an excellent year for the conservation movement. The Government of Malaysia ordered all structures to be removed from Sipadan Island by the end of the year, and in 2005 the island was officially declared a protected marine reserve. The number of tourists allowed to visit the island was also effectively monitored. At last, this island was recognized for the gift it is, and real efforts to protect it for future generations had been made.
Today this island remains exceptionally rich in biodiversity. However, it is important to remember how fragile marine ecosystems can be. The wildlife at the many dive sites here must continue to be protected and treated with respect so that its beauty can be enjoyed for years to come.
Liveaboard trips from Rp13,829,476 per diver twin share for Sipadan 3D/3N.
Liveaboard trips from Rp12,782,255 per non diver twin share for Sipadan 3D/3N.
This liveaboard will bring divers to Mabul Island and Sipadan Island.
Learn More