On the northeastern coast of Borneo Malaysia lies the city of Sandakan and roughly 80 kilometres north of Sandakan, or one and a half hours by speedboat, lies the little known island of Lankayan. Popular among muck divers and big fish enthusiasts alike, the island offers something for everyone.
December of 2001 the Malaysian government declared it part of the Sugud Islands Marine Conservation Area (SIMCA). Fishing is no longer allowed and efforts are being made to protect the turtles that come to the island to nest and forage. This island is part of the Tri-National Sea Turtle Marine Biodiversity Conservation Corridor. Green and hawksbill turtles are often seen in the area. Lankayan derives its name from a Sulug word, lakian, meaning final or last of the series – a fitting name for this remote island in the Sulu Sea.
Notable Dive Sites
Over 20 dive sites including several wrecks and numerous small reefs surround Lankayan Island. From tiny nudibranchs to the world's largest fish – the whale shark – there is plenty to see around the island. Prepare for your trip by learning about a few of it's more notable dive sites.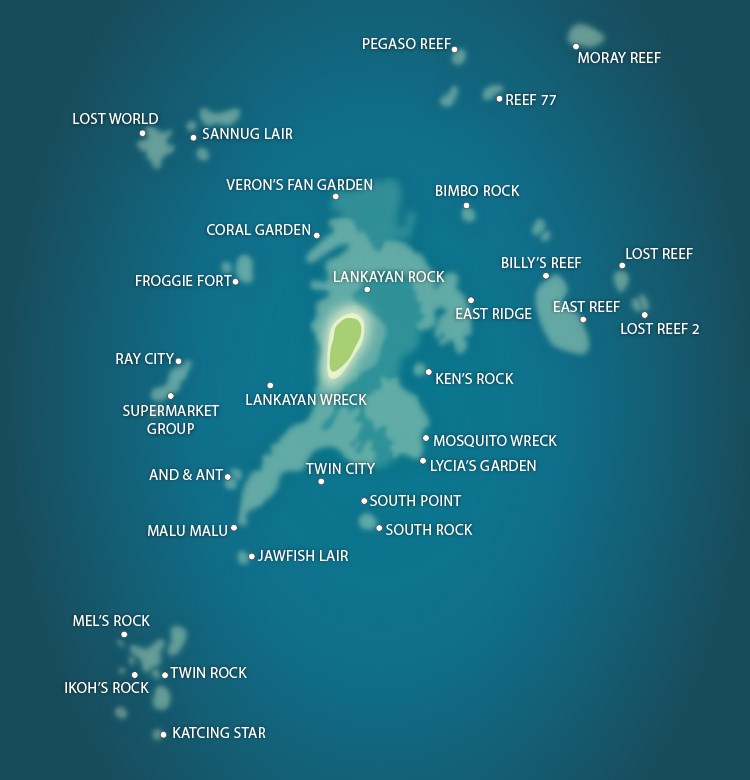 Jetty Wreck
Right off the island jetty is this artificial wreck easily accessed by a guide rope. Before you reach the small fishing boat down below you'll see schools of batfish and jacks. As you get further down keep an eye out for blue spotted rays, cuttlefish, and scorpion fish. Anemone fish are common and frogfish are often found at night. Also look for lionfish lurking around the jetty's pillars. The dive reaches a depth of 20 meters.
Jawfish Lair
About an 8 minute boat ride from the jetty, this dive site is named after a small fish with a big mouth. The yellow jawfish poking out of the sandy seafloor have the curious habit of protecting their eggs by incubating them in their mouths. Rays and leopard sharks may also be found resting in the sand but don't forget to enjoy the wide variety of hard corals in the shallower areas of this dive. You may find nudibranchs, frogfish, and cuttlefish. This dive reaches a depth of 28 meters.
Lankayan Wreck
About 8 minutes to the west of the island is a sunken boat that was once used for fish poaching. Fortunately the wreck is now home to a wide variety of fish. Groupers and yellow sea perch are often seen around the boat, as are the small and hard to find ghost pipefish. This is a relatively shallow dive at 15-23 meters. Visit March through May to see whale sharks passing through.
Froggie Fort
Located on the northeast end of the island just north of the Lankayan Wreck the reef at this site is known for its frogfish. Batfish, angelfish, pufferfish, and triggerfish are all also easily found at this reef. Make sure to keep an eye out for lobsters and nudibranchs.
Mel's Rock
This dive site is just south of Lankayan Island. Surrounded by sand this small patch of reef is composed mostly of hard corals. However, soft coral can be found at the top of the reef roughly 12 meters down. Nudibranchs are common and lobsters can be found among the barrel sponges.
Mosquito Wreck
The ship at this site was once part of Japan's World War II Mosquito Fleet. Today it is home to jacks and barracuda. Look into the open ocean and you may see a manta ray or whale shark. Plenty of fish have made this wreck home, however take a moment to appreciate the boat itself. The bow gun is still intact as are other parts of the ship. This dive reaches a depth of 25 meters.
Twin City
This site consists of two small reefs separated by a narrow strip of sand. Look among the black coral bushes for small transparent shrimps of which there are many. Blue fusiliers and rabbit fish are often seen among the reefs. Lucky divers may see a bamboo shark or cat shark lurking around this dive site. Watch out for small jellyfish as they do sting.
Moray Reef
A bit farther from Lankayan Island than the other dive sites, Moray Reef is an excellent site for getting away from groups of other divers. As the name suggests this reef is known for its moray eels - so look into the reef's crevices and check around the corals for gaping morays.
Best Time to Visit
| Best times | Water temperature |
| --- | --- |
| March to October | 26°C - 30°C (79°F - 86°F) |
Diving is open all year, however the best diving occurs during the dry season from March through October.
Dive Resorts