The abundance of small strange looking creatures at Kapalai Island, make it one of the premier macro dive sites in the world. Originally popular for its proximity to Sipadan, Kapalai Island is now appreciated in its own right. Kapalai offers plenty of unique creatures including blue ring octopus, stone fish, and ghost pipefish. However, if you must see sharks and turtles on your trip Sipadan is just 15 kilometres on an easy 20 minute boat ride. Easily accessible, Kapalai is 30 kilomters south of Semporna town, a trip that can be easily completed in 45 minutes.
The dive sites surrounding Kapalai Island are all extremely close – reachable within a few minutes by boat or, for some, by jumping off the island's pier. Divers have plenty to choose from with over 20 dive sites surrounding the island, however some sites are certainly more popular than others. Beautiful coral reefs, swirling schools of fish, strange hidden creatures, and wrecked boats all await you under the sea.
Two hundred years ago Kapalai was a beautiful island covered in lush green vegetation. Years of erosion have turned the island into a small sandbank that is now only visible at low tides. This only emphasizes the marine experience for most visitors who quite enjoy staying at a resort that rests on stilts above the water.
The Sipadan-Kapalai Dive Resort is the only accommodation on this island and the beautiful wooden architecture of this resort complements the aquatic beauty surrounding it.
Notable Dive Sites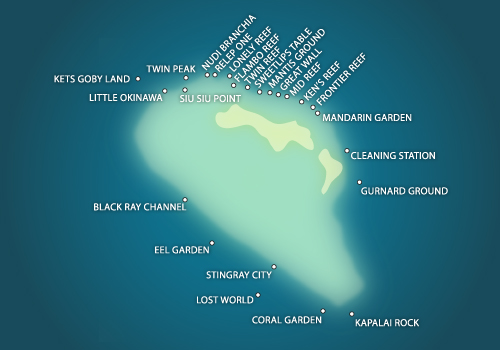 House Reef/ The Jetty
You don't have to travel far from the island for excitement. Right off the island's jetty are five small wrecks bursting with marine life. These small fishing boats lie at the bottom of the reef's slope at about 18 meters depth. Closely clustered together the boats are only 10 meters or so apart from each other. Schools of grouper and snapper swim overhead as camouflaged stonefish hide among the boat corners. Be sure to look among the wrecks' nooks for orangutan crabs, nudibranchs, and shrimps.
Mandarin Valley
Perhaps the most famous of Kapalai's dive sites, Mandarin Valley is a macro paradise. Take it slow and look along the reef for harlequin ghost pipefish, frog fish, and leaf fish. Lucky divers may catch a glimpse of the incredibly rare and beautifully colored mandarin fish. These small creatures tend to hide under the spines of sea urchins during the day but at night you can see the mandarin fish perform their mating dance. This dive site has a maximum depth of 20 meters.
Sweetlips Table
A few minutes to the northwest of the island, this dive site is known for its schools of sweetlips fish. The Oriental Sweetlips is recognized by its distinctive yellow face, black and white striped body, and polka-dotted tail. Although it tends to feed at night, this unique looking fish can certainly be seen during the day. Also be sure to look among the coral for nudibranchs, morays, and shrimps.
Frontier Reef
Also north of the island this beautifully colored reef is home to plenty of unique creatures. You will certainly feel like you are conquering new frontiers as you find frog fish, leaf fish, nudibranchs, and shrimps that are seldom seen elsewhere in the world.
Mantis Ground
Another haven for macro diving, this site is filled with nudibranchs, anemone crabs, shrimps, and leaf fish. Yet the creature this site is known for is the rare and somewhat ferocious looking mantis shrimp. Named for its similar appearance to the terrestrial praying mantis this colourful creature can grow up to 30 centimetres in length. Also known as 'thumb-splitters' this creature's strong claws are capable of crushing prey or an unwary diver's fingers. The mantis shrimp has also been known to break the glass of aquariums. The Mantis Ground dive site reaches 19 meters in depth.
Mid Reef
The current at this dive site can be quite strong so hang on to the ball line as you descend. This dive site reaches a depth of 25 meters and is best for experienced divers given the strong current. A visit is definitely worthwhile though as this dive site is known for its pygmy seahorses hidden among the branches of the coral reef.
Flambo Reef
Be sure to look for the brilliant coloured flamboyant cuttlefish as you dive around Kapalai Island. This incredible creature comes in hues of purple, pink, and yellow and is able to rapidly change its color to confuse predators or prey. Also be sure to look for blue ringed octopus, lionfish, and crocodile fish as you swim around this dive site.
Best Time to Visit
| Best times | Water temperature |
| --- | --- |
| March to October | 26°C - 30°C (79°F - 86°F) |
Kapalai diving is open all year round however visibility is best during the dry season which starts in March and ends in October.
Dive Resorts