Indonesia is located in the center of the famed Coral Triangle and has long been known as one of the best places in the world for diving. In recent years however, thanks to an emphasis on tourism in Indonesia, many diving destinations have been quickly growing in popularity.
When it comes to most diving destinations in the archipelago, you can expect the currents to be strong, and this means that the seas here are perfect for those who already have some diving experience. If you are a new diver however, then you can also find a number of amazing dive spots dotted around the country, such as the Lembeh Strait which has very gentle currents.
There are more than 8,000 islands to choose from if you are looking to go diving or snorkeling in Indonesia and you will need to decide which island or province you want to visit according to your needs and schedule.
East Kalimantan Region
Maratua, Kakaban and Sangalaki Islands
Sangalaki Island has the claim to fame of having the largest population of nesting Green turtles in the Celebes Sea. With that in mind, nature lovers flock here, and you can also enjoy ocean pelagic life as well as barracudas, trevallies, reef sharks and Hawksbill turtles. This island has mild to strong currents so with that in mind it is good for beginner and intermediate divers.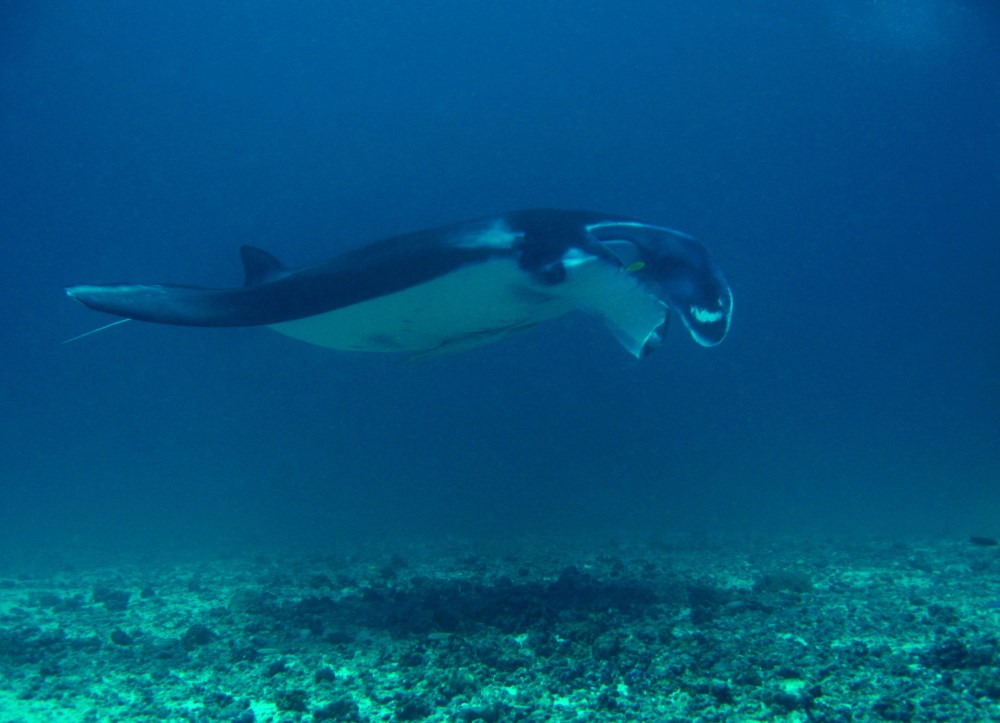 One of the top dive spots off the coast of Sangalaki is called The Channel which goes down to a depth of around 20 meters. The currents are strong here but there is also a chance to see a number of big fish and this is a top pick if you are an advanced diver. Some of the species that you are likely to see include manta rays, eagle rays and cow rays. You can also travel to Kakaban when you visit Sangalaki which is famous for having a lake that is filled with stingless jellyfish.
Best Season to Visit
If you want to dive in East Kalimantan then the best time to do so is from April through to December. At this time the water temperature can range from 19°C to 30°C (66°F to 86°F) and the visibility is between 10 and 40 meters (33 and 145 ft).
Things to See and Do on Dry Days
Balikpapan
If you have time when you are in East Kalimantan then make sure to check out the city of Balikpapan which is the capital of this part of the province. This is the place to come to get a look at a more modern side of life in this part of Indonesia and you can spend time exploring the museums and parks in the city.
Maratua Island
If you are looking for something to do on Maratua Island other than dive, then make sure that you don't miss the two famous lakes on the island known as Tanah Bamban Lake and Hajj Buang Lake. The waters are so clear that you can see fish and turtles swimming around and if you want to get up close to the marine life then you can also go snorkeling here.
The Mahakam River
The mighty Mahakam River has the claim to fame of being the longest rover in East Kalimantan and is also known for its freshwater dolphin population. The graceful dolphins are known as 'pesut' in Indonesian and if you want to admire them in all their glory then you can take a relaxing cruise along this majestic waterway.
North Sulawesi Region
Bunaken, Siladen and Manadotua Islands
Bunaken, Siladen and Manadotua Islands are located within the wider Bunaken National Park in Sulawesi. The currents are usually strong and can also move up and down which means that this is an ideal location for experienced divers. You will also find some colorful corals here and many reef pelagic fish.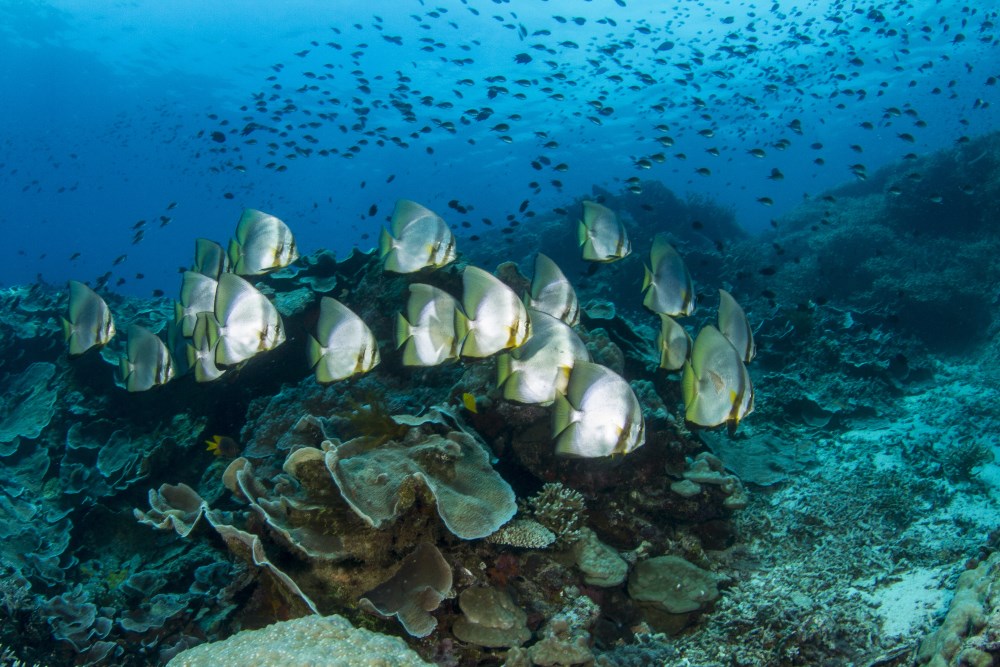 Bunaken Island is arguably the most visited of these three islands and is an oceanic island which is famous for being the spot where the coelacanth fish was re-discovered after scientists previously thought that it was extinct.
Lembeh Strait
The Lembeh Strait is known in the diving community as the place to come for anyone who enjoys macro life. The currents here are almost non-existent, so this is a great choice for novice divers. The Lembeh Strait is also known as one of the best spots in Indonesia if you want to try muck diving.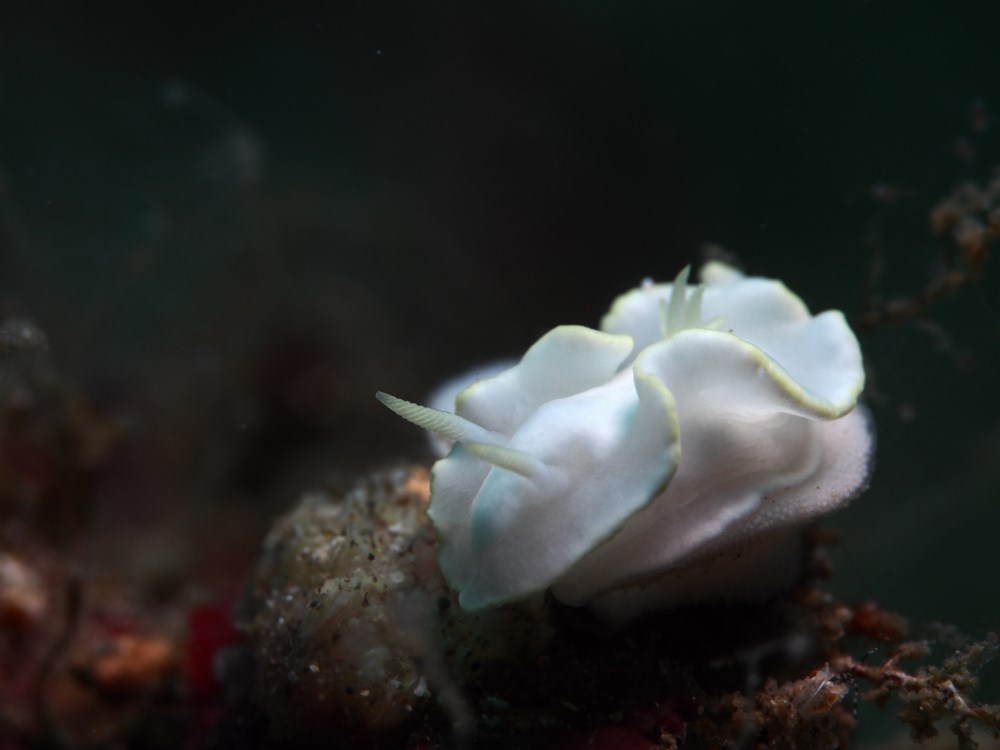 Best Season to Visit
You can technically dive in Sulawesi all year round although most visitors choose to come here from April to November. After November is the rainy season which lasts through to February and at this time the seas can be rough and the visibility is very low. If you want to see sharks then you need to visit in June and in July and August sperm whales and dolphins congregate in the waters here.
Things to See and Do on Dry Days
Bogani Nani Wartabone National Park
Bogani Nani Wartabone National Park is easy to visit from neighboring Gorontalo and the main reason to visit is to trek through acres of lush rainforest. You will find trails all over the park and you can enjoy local wildlife including monkeys, exotic birds and snakes.
Tomohon
If you are a nature lover then you need to head to Tomohon where you can see some of the most beautiful scenery in Sulawesi. The crowning glory of Tomohon is the Mount Mahawu Volcano which is a top spot to trek to. From the summit you will be able to see all over the rural highlands of this part of Sulawesi.
Tangkoko National Park
Tangkoko National Park spans some 9,000 hectares of land and is a haven for indigenous animals in North Sulawesi. There are hiking trails all over the park and you can look out for tasiers and Black Crested Macaques. This is also one of the most remote and beautiful spots in this part of the region so it is well worth a visit if you are in the area.
South Maluku Region
Ambon
Maluku Province is another province in Indonesia that is made up of a small archipelago and if you travel to Ambon you can go out to a range of different islands. You can also dive off the coast of Ambon itself and this is a great spot if you are interested in macro photography and muck diving. The waters here are teeming with marine life and you find long coral gardens that span some 4 meters in height. Some of the sea creatures that you are likely to see here include mandarin fish and sharks.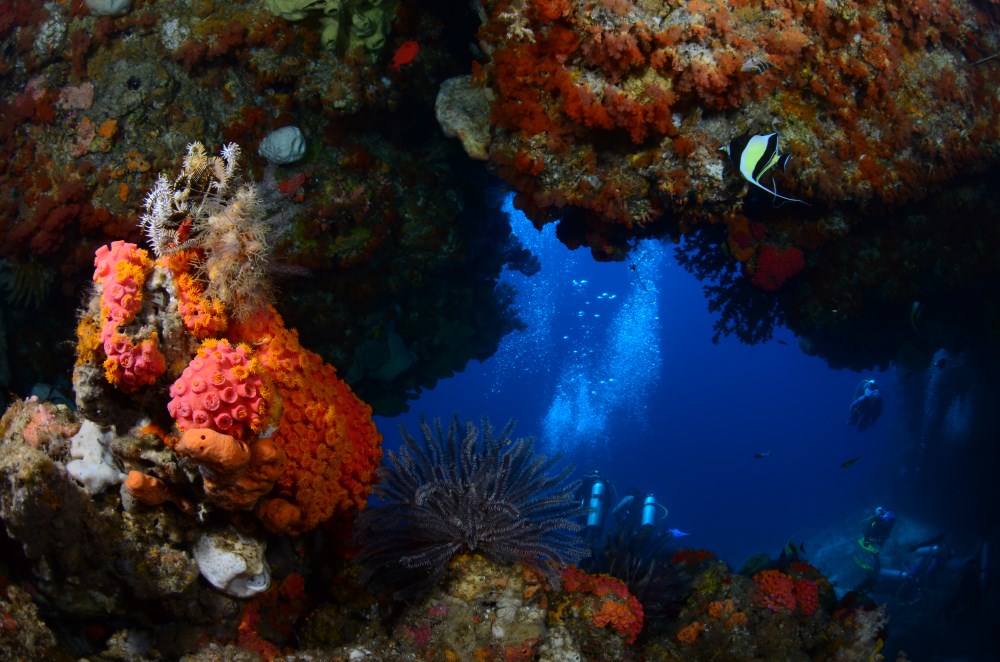 Best Season to Visit
In theory you can dive in Ambon all year round although this depends on the kind of diving you want to do. If you are planning to try some macro photography then you should avoid July and August as this is the wet season and visibility is poor. Some dive resorts and shops may close over this time as this is also the low season.
Things to See and Do on Dry Days
Gunung Api Gamalama
Gunung Api Gamalama is located on Ternate Island and is a large volcano that is still active. The volcano soars to a height of some 1,700 meters and you can trek to the top when the mountain is not in imminent danger of erupting. The volcano is also surrounded by clove plantations and you can go on a hike and see how these are grown.
Manusela National Park
Manusela National Park is part of Seram Island and is also located in the Wallacea Transitional Zone. There are some 2,000 kinds of butterflies here and 120 different birds. The park spans around 189,000 hectares and you can trek on the jungle trails as well as visit two traditional craft villages.
Lava Flow
Lava Flow is part of the Banda Islands that lie off the coast of Maluku and is basically a large pool of lava that has solidified. This came from the neighboring volcano called Gunung Api in 1988 and it has now become covered in idyllic table coral. Some of the coral can span 4 meters in height and this is a great place if you want to try some macro photography.
West Papua Region
Raja Ampat
Raja Ampat is made up of a collection of some of the most beautiful islands in the world. The mini-archipelago is located in West Papua and this is known as a gorgeous diving and honeymoon destination. The islands here are covered in pristine rainforests which then back onto white and beaches and azure seas.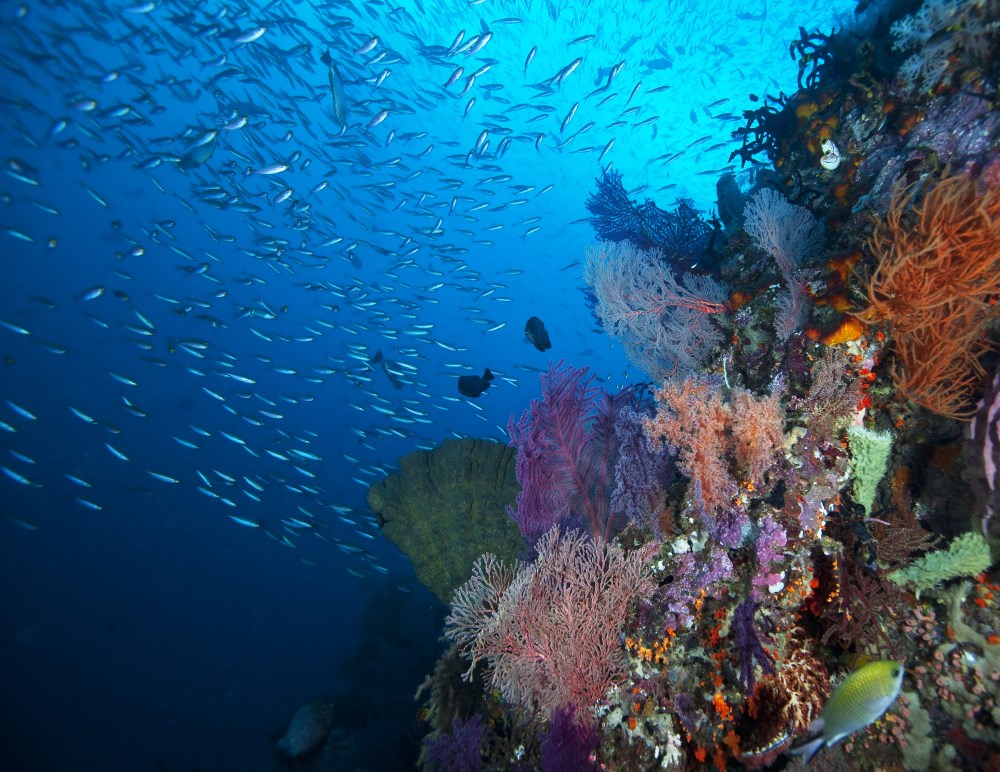 As you would expect, most people come here to dive, but you can also enjoy snorkeling or swimming. If you do venture beneath the sea in Papua, then you can expect to find an impressive 540 species of coral as well as 1,500 different kinds of fish.
Cenderawasih Bay
Cenderawasih Bay is part of the Cenderawasih Bay Marine Park which encompasses 18 different islands. The park is 14,000 square kilometers wide and the diving opportunities here are amazing. Some of the sights that you are likely to see include octopus, cuttlefish and sharks, and the island is also home to exotic birds and a plethora of different species of monkeys.
Triton Bay
Triton Bay and nearby Iris Strait is located in Kaimana. Kaimana also goes by its nickname which is the Kingdom of the Fishes and the reason for this is down to the variety of different species on offer. This part of Papua is also known for its pretty soft coral gardens which feature black coral bushes and idyllic drift and wall areas. If you like macro photography then you will be spoilt for choice thanks to the abundance of small sea creatures on show. Other highlights include whale sharks, pygmy seahorses, dolphins and marlin.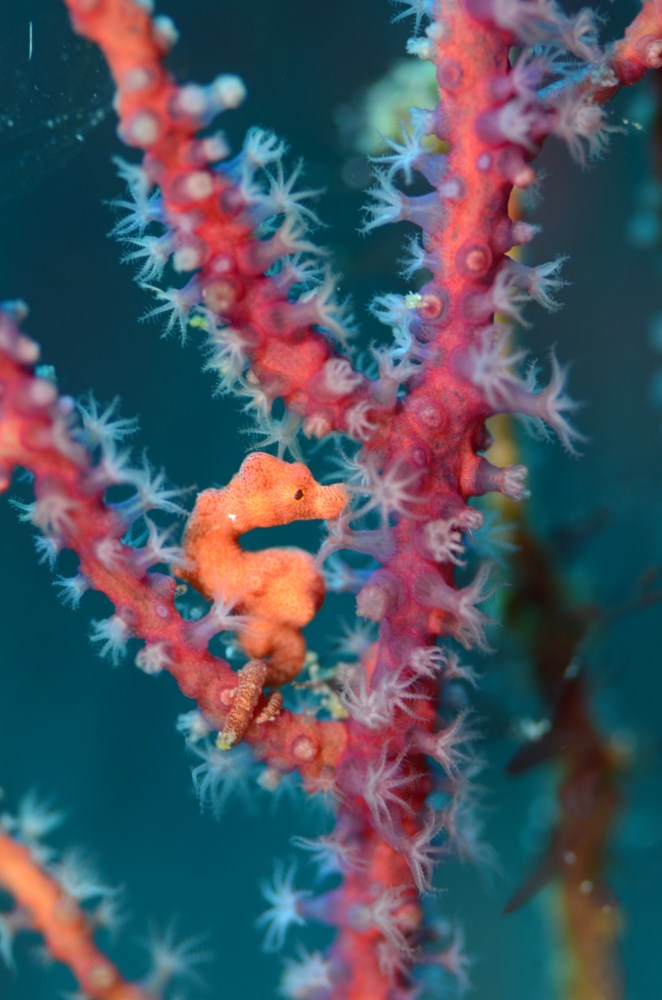 Best Season to Visit
The best time to visit Papua is in the dry season which comes after the eastern monsoon and runs from September to June. At this time the visibility is between 10 to 15 meters and you will find warm waters with temperatures of around 28 degrees. During the wet season from July to August, many dive spots and resorts close and it is not possible to dive in Papua.
Things to See and Do on Dry Days
Manokwari
Manokwari is located close to the bay of Teuk Doreri and this would have been the first missionary region of Papua. One of the main activities here is the chance to trek through the gorgeous Table Mountain Park which is known as Taman Gunung Meja. You can also visit the pretty Japanese Cave or take a boat trip to Lemon Island (Pulau Lemon in Indonesian) which is famed for its snorkeling opportunities.
Lorentz National Park
Lorentz National Park has the claim to fame of being a UNESCO World Heritage Site and this is also the place where you will find the Puncak Jaya Mountain. This mountain is also known as the Castensz Pyramid in English and soars to a height of almost 5,000 meters above sea level. The park is filled with a wide variety of birds and animals and you can go trekking or mountain climbing if you are looking for an adventure.
Aikima
Many people make the trip to Aikima to check out the famed Werapak Elosak Mummy. This is actually a preserved corpse that is said to be some 300 years old and is comprised of a local chief who had his body smoked to stop it from decaying. The reason for this was that the chief was said to be a magician and locals believed that his preserved body helped to guard them against attacks from invading tribes. Certainly if you are in the region then this is one of the most unusual attractions in this part of Indonesia.