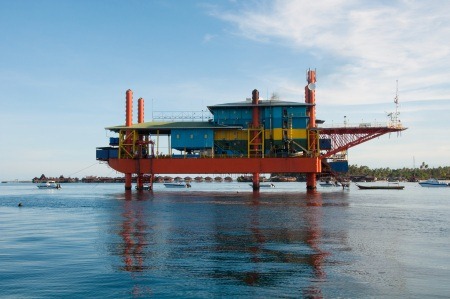 It's time for another Special Deal! We have recently included Seaventures Dive Rig as a dive resorts we feel confident and comfortable in recommending it to our friends. So, our Special Deal this time is for Seaventures Dive Rig.
Seaventures Dive Rig isn't your typical kind of resort accommodation. In fact, it was an oil platform before it was converted into a dive rig. If you are adventurous and willing to try a different kind of accommodation, you will be surprised how convenient everything is on the platform. You can read about the story behind Seaventures Dive Rig here.
Make a confirmed booking within May and June 2012 for any dates you plan to visit Pulau Sipadan to take advantage of this offer.
Save Up to USD55 for 5 Days 4 Nights Stay
That's a savings of 6% off the resort published price. Here are the packages available for different durations.
Duration
Standard Room
Diver
Non-Diver
4 Days 3 Nights

659

528

5 Days 4 Nights

854

684

6 Days 5 Nights

1,022

818

7 Days 6 Nights

1,206

965

8 Days 7 Nights

1,389

1,111

9 Days 8 Nights

1,572

1,257

Additional Night

183

147
* Prices are in USD
Sipadan Island Permit Guarantee
Seaventures Dive Rig has a short turnaround time for divers going to Sipadan Island. Just stay a minimum of 3 nights and you will have a guaranteed Sipadan Island permit assigned to you to dive at Sipadan.
When you make a booking with us, we will also assist in helping you apply for the permit.
How to Book
Booking is easy. Here's how:
1. Go to our Seaventures Dive Rig page.
2. Click on the "Check Availability" button.
3. Choose your room preference and select the dates you are interested in.
4. Click on "Check Now".
* You don't need to provide credit card details to check for room availability. We will only collect payment when you are ready to confirm your booking.
Happy diving!